Do you have old books lying around? Or old textbooks you know you will never use? Well, it may be time to clean out your bookshelf and make money while you are at it.
Selling college textbooks and books is easier than you think. Here are some options that we found to be easy and pay well for old books.
Top Sites to Sell Textbooks
Instead of walking down to your school bookstore, you might want to check these other places to sell books as well as textbooks to get more money.
1. BookScouter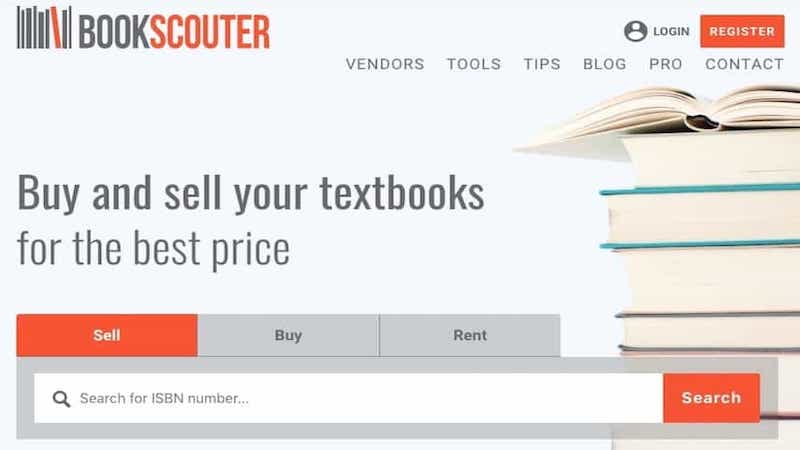 BookScouter might be the best website to sell textbooks for the most money because it compares the prices of 38 vendors at once.
All you have to do is enter the ISBN number, you pick the highest buyback price, and then you ship it for free. Once they receive your book(s), you get paid.
As each buyback vendor has different free shipping policies, you may decide to sell several books to the same merchant. This strategy can be handy if you have several low-price companion books.
Additionally, the platform lets you create price alerts if you're waiting for a higher buyback price before you're ready to sell it. You can view the price history to determine if you're likely to fetch more in the future.
Learn more by reading our BookScouter Review.
2. Decluttr
Decluttr lets you sell books, textbooks, video games, CDs, DVDs, and your old smartphones. Their app makes it easy to scan the book's barcode or type the ISBN.
They will offer you a selling price for all your items and you can ship them for free.
You will get paid the day after your products arrive at one of Decluttr's warehouses.
This is a good way to not only make some extra money from those textbooks you will never use again, but, you can also de-clutter your dorm room and even continue to use Decluttr in your working years by selling your old smartphones, tablets, and video game consoles.
Add coupon code CASH10 to your cart to get a 10% bonus for your old Phones, Consoles, iPads, MacBooks, DVDs, Books and more today
Learn more by reading our Decluttr Review.
3. BooksRun
BooksRun gives you the option to sell your textbook directly to them, or they may give you other available offers. When you type in the book's ISBN number, the book will either be added directly to your sell cart, or you'll see your other offers.
After you've chosen your buyer and checked out, you have five days to ship your book(s) with the shipping label you receive via email. After BooksRun receives your books, it takes 2-5 days for them to assess the order.
You'll get the payment within four business days after the books are assessed. You can choose PayPal deposit or mailed check for your payment.
4. eCampus
eCampus can be a fun site to sell books because of their rewards program that can save you money on future purchases.
They allow you to list multiple ISBNs and pay with a check, direct deposit, or store credit. You will get a selling price if you select store credit plus 1 eWard point per textbook sold.
There are other ways to accrue rewards points, but, 175 points earns a $5 eCampus gift card.
5. TextbookRush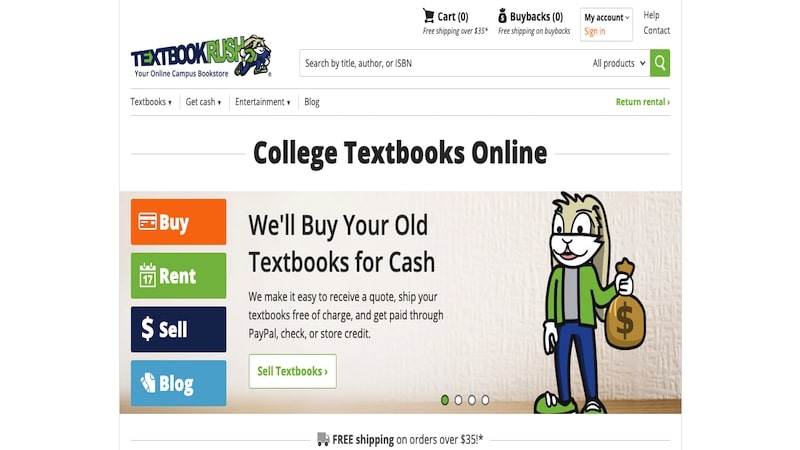 In addition to textbooks, you can also sell electronics, games, and movies at TextbookRush. They have more than 1 million textbooks listed for sale in many different subjects, so, chances are you can sell back your textbooks to TextbookRush.
You can also sell your books with their mobile app which can make it easier to enter the ISBN numbers. Shipping is free on and you can get paid with cash, PayPal or store credit.
Store credit can be your most lucrative option as you receive a 5% payment bonus. Redeeming the credits can be easy if you're still a student and need books or want to purchase entertainment products like games and movies.
6. BookFinder.com
BookFinder.com has been in the textbook buyback business since 1997 and has received many positive accolades from major publications such as Forbes, The New York Times, and Lifehacker.
They are very similar to BookScouter by comparing the prices of several vendors but with a more antiquated looking website.
Shipping is free and they even buy textbooks back from Canada and the UK! To get started, just enter your ISBN numbers.
7. Uloop
Uloop can help you sell textbooks online by comparing prices from Amazon and Chegg. After accepting an offer, you attach the prepaid shipping label and mail it off via UPS to receive payment through PayPal.
Additionally, the platform can coordinate local sales at select colleges. Most of the schools are in California. However, Ohio State and Rutgers also make the list.
This service can also help you find tutors and course notes to get a better grade on next semester's course.
8. CampusBooks
CampusBooks is another site that has been around about as long as the internet and is a pioneer in the textbook comparison niche.
You can sell nearly any book here, but, they won't accept books missing supplemental material.
CampusBooks compares the prices from "dozens of buyback sites" to find you the best deal.
One tip they recommend is to sell August or January to get a higher price due to stronger demand.
Shipping is free and you can get paid with a check, PayPal, or store credit. They also have a mobile app to make selling textbooks easy.
9. ValoreBooks
ValoreBooks is another textbook comparison website that claims to compare the prices from hundreds of buyers. You can sell textbooks, novels, and other in-demand course materials in new or good condition.
Sold books are shipped for free and you can be paid with check or PayPal.
If you are selling back multiple books to ValoreBooks, they only accept boxes that way 70 pounds or less. You will need to contact them for additional labels if you exceed that weight.
Learn more by reading our ValoreBooks Review.
10. Sell Back Your Book
Sell Back Your Book buys your textbook directly from you. They are accredited with the Better Business Bureau and have paid millions of dollars in textbook buybacks. And, they have a mobile app that allows you to list your books quickly.
While they accept most books, their guidelines state they will not accept teacher or instructor editions, encyclopedia sets, or books without an ISBN.
Shipping is free with USPS Media Mail or FedEx Ground. You can be paid by check or PayPal.
11. Barnes & Noble
You might not think of Barnes & Noble as being in the textbook business, but, they will buy your used textbooks.
There is a $10 minimum to sell your textbooks with Barnes & Noble.
Orders are shipped via Postal Service. After receiving the book, they will pay you with check or PayPal.
They only allow you to enter one ISBN in at a time. If you have multiple books to sell back, it can take a few extra minutes to list them individually using Barnes & Noble.
12. BookByte
Founded in 1999, BookByte is another textbook legend. They accept textbooks in good condition (minimal wear & tear) and acceptable condition (cover damages & torn pages if the book is still legible).
You might try this option for your more worn books as other textbook companies only buy books in good condition. The buyback price is guaranteed for 30 days if you want to comparison shop with other textbook buyback sites.
BookByte is based in Salem, Oregon and pays with cash, check, or PayPal.
13. Amazon
Amazon is a leading seller of new & used books. They also sell & rent textbooks and are willing to pay you up to 80% of the purchase price.
If you don't like Amazon's trade-in price, you can always sell your books as a third-party listing. You can get paid with Amazon gift cards in addition to cash.
It's possible to get a higher selling price by selling the book yourself than that offered on by a textbook buyback site.
Just keep in mind that Amazon will keep a small commission of approximately 15% and you are responsible for paying shipping costs. You do get a small shipping credit, but, it still might not be enough to offset the cost of postage & packaging materials.
14. CollegeBooksDirect.com
CollegeBooksDirect.com accepts books in good condition. Of course, you can receive more if the book is still in new condition.
You list your book starting with the ISBN, title, or author's last name and can get paid by check or PayPal. They currently accept over 440,000 titles and are one of the smaller textbook vendors.
This vendor offers prepaid USPS shipping labels making it easier to find a dropoff location.
15. TextbookX
TextbookX is similar to Amazon. You list the book as a TextbookX seller and get paid when somebody buys it. The sales commission is 15% of the selling price plus $1.50. You do receive a small shipping credit to offset shipping costs for USPS Media Mail.
If you wish to receive immediate payment, you can see what the "Instant Offers" buyback price is. Your proceeds are likely to be less than waiting for a buyer but you're at least guaranteed to make a sale and you make money now.
Payment options include PayPal or store credit. You will receive a 5% bonus if you choose store credit.
16. Student 2 Student
Student 2 Student allows you to sell your textbooks online or locally. When you enter a book's ISBN, they will compare the buyback prices from several online vendors and you can sell it on your local campus as well.
When you sell locally, the service is completely free and the buyer pays you in cash at the time of purchase. This is basically the college student textbook version of Craigslist or Facebook Marketplace.
Having multiple eays to sell your books makes it easier to make the most money from your unwanted material. Selling locally can help you get better prices than going with an online-only buyback vendor.
17. AbeBooks
You might give AbeBooks a try if you have a rare or vintage book with no ISBN or are trying to sell an international edition. They will buy your textbooks directly from you and offer free shipping via FedEx.
This platform can be an excellent option if you sell unique books, such as novels for an advanced lit class. The platform can also be great for Sparknotes and international editions.
AbeBooks is an Amazon subsidiary. To streamline your earnings, you may also decide to only list them on the better-known retail giant to deposit your earnings in the same account and potentially receive Amazon credit instead of cash.
18. FacultyBooks
This final suggestion has been in business since 1975. FacultyBooks is geared more for instructor's books, they do accept student textbooks & study guides as well, as faculty members have books to sell as well.
If you worked as a TA to help pay your tuition, perhaps you had to buy these special editions to complete your employment requirements.
A few other sites on this list also accept instructor editions, but, you might get a better offer with FacultyBooks.
Sell College Textbooks Near You
There are actually places near you that buy college textbooks. Try one or more of these options if you are don't want to hassle with selling your textbooks online.
19. Advertise on Campus
Your campus might have a bulletin board in the academic department, library, or student center where you can advertise your books. This can be a good option since professors often require the same textbooks the next time that class is taught.
By strategically pricing your books for less than the bookstore and online vendors, you can get top dollar for your books. And, it saves you the hassle of having to mail them off and waiting to get paid.
20. Half Price Books
Half Price Books is a popular local neighborhood bookseller and buyer. They limit their hours when you can take your books in to sell.
One tip I learned is that they tend to give better offers when you sell them your books during the week rather than on the weekend. This is probably due to the fact they get slammed on the weekends.
Receiving store credit instead of cash increases your earning potential. The store sells many gneres of books, puzzles and collectibles that can be more valuable to you.
21. Garage Sales
One of my favorite way to sell books is through my bi-annual garage sale.
My neighborhood has over 1,000 houses. Twice a year we have a garage sale. I typically set up a special section on my driveway just for books.
Many communities let you advertise your garage slae through an online newspaper or selling app. Be sure to mention what type of textbooks you're offering to potentially reach more buyers mapping out their shopping stops.
22. Facebook Marketplace
Your local Facebook Marketplace is perfect to sell books. Some neighborhoods even have a buy and sell page. The easy part of your neighborhood Facebook buy and sell page is most neighbors offer a PPU (Porch Pick-Up).
When I sell books, I typically leave a bag of books on the porch and have the buyer pay me with Venmo.
As Facebook is the largest social media network in the United States, you can reach plenty of textbook shoppers. There are no fees for local sales but charges apply if you ship your sold books to the buyer.
23. OfferUp
OfferUp is another app that allows you to buy and sell items locally. You can use the shipping feature with OfferUp yet it is a little pricey.
The app is offered with IOS and Android phones. Simply post a photo of your books then use the app to communicate with buyers.
Local sales are fee-free and you can offer porch pickups for additional convenience. This buy and sell platform is one of the best for reaching potential buyers that don't use Facebook.
FAQ
Are there places that buy old antique books?
Yes, we suggest you call ahead to see if the stores listed above are currently taking antiques. They may require a certain condition.
What condition do my books need to be in?
Make sure to read the fine print with each store. Some will let you send your books in and then evaluate the condition.
Can I send my books in bulk?
Yes, check with each company to find out how you can sell your books in bulk.
Summary
There are a few different options to sell your textbooks for the most money.
You can try to list them yourself on-campus (without the bookstore) or as a third-party online seller, sell directly to a buyback company, or compare online prices from a buyback comparison website.
In most instances, you will make more money by bypassing your campus bookstore the next time you sell a textbook.